Single phase inverter for HOMELIFT
SIEMENS single phase inverter.
MAIN CHARACTERISTICS FOR CUSTOMERS:
Single phase input, three phases output
Manage only upward travel direction
Customer parametrization by 4 push buttons and display
2 Speed adjustable by dedicated parameters (Hi/Lo)
Downwards low speed hydraulically adjustable on the valve
Relevelling using low speed
Reduction of power losses, due to low speed not adjusted hydraulically (EVR always activated in upward direction)
Power limitation 1: high speed reduction to a set value when a signal coming from an adjustable pressure switch is activated (digital input ON/OFF)
Power limitation 2: high speed modulation depending from the static pressure value coming from a dedicated pressure gauge (analogical input – NOT YET IMPLEMENTED)
EMC C3 class (industrial) according to EN61800-3; C2 class with external filter
Intermittent duty cycle S3 10% according to IEC 60034-1
(60s ON+540s OFF)
Low oil heating
MANUAL PUMP UNIT WITH INVERTER
BROCHURE PUMP UNIT WITH INVERTER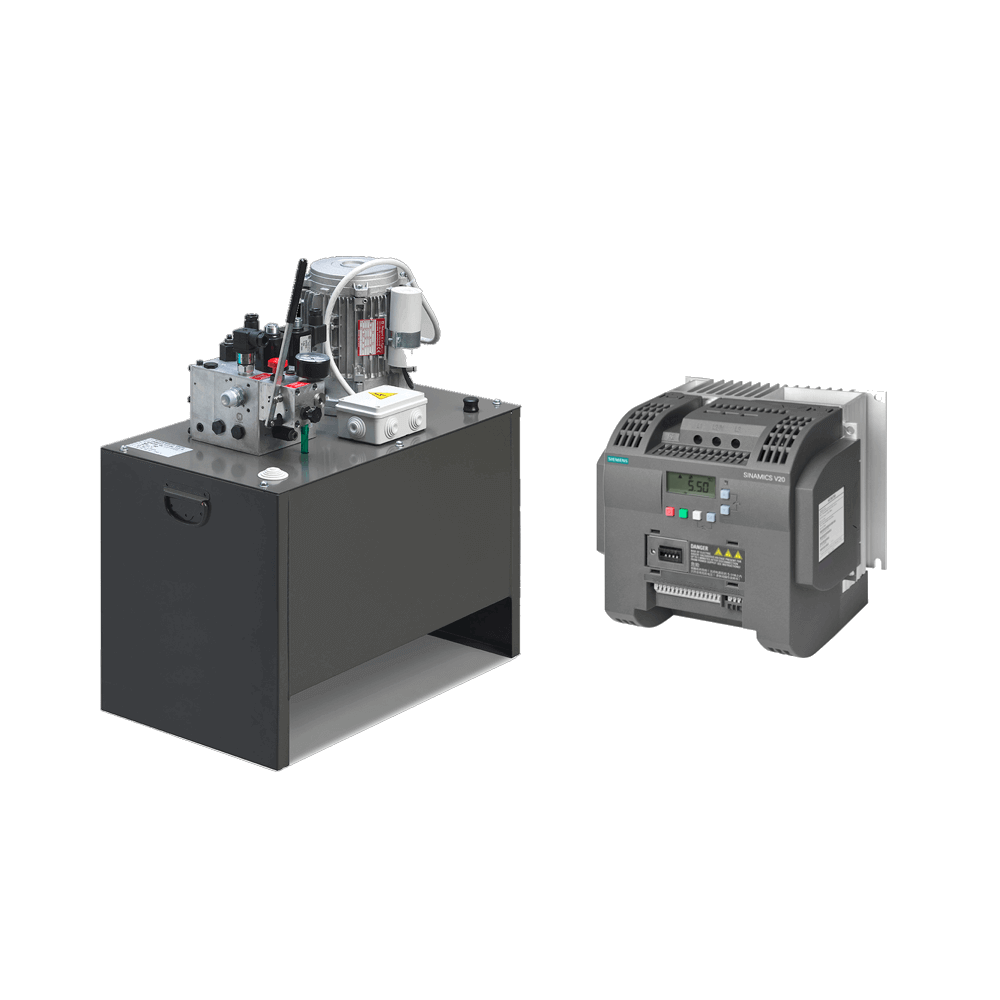 MOTOR Power
1,5KW
1,8KW
2,2KW
In 3AC 230V (1)
6,2A
7,6A
11,4A
Flow rate (l/min)
12
16
23
12
16
23
16
23
Static Press (bar)
55
45
32
66
53
40
56
45
Pump Type
Vertical, 3-Screws
Vertical, 3-Screws
Vertical, 3-Screws
INVERTER FAMILY
V20
V20
V20
MODEL (SIEMENS)
6SL3210-5BB23-0AV0 (family Size C) (3)
6SL3210-5BB23-0AV0 (family Size C)
6SL3210-5BB23-0AV0 (family Size C)
INVERTER In in 1AC (2)
32A
32A
32A
INVERTER In out 3AC (2)
13,6A
13,6A
13,6A
AVAILABILITY
OK
OK
OK
MOTOR In 3AC 230V (1)
6,2A
7,6A
11,4A
In input 1AC 230V
14,6A
17,9A
26,8A
In input 1AC 230V Power limitation (3)
10,3A
12,6A
18,8A
(1) External Motor 3AC, 230/400V , 50Hz, ϵmecc=70% m, cos(φ)=0,75, S3 10%
(2) Rated current In ,low overload (LO). Max overload 150%In x 60s +94,5%In x 240s
(3) Power limitation operated by reducing Hi-speed to 70% of standard value. Set point adjustable.